More and more often, simple sheet metal cladding is no longer able to meet the high expectations of designers! An optically modern, three-dimensional design is assumed. The designers at Hamilton Storage, working in close partnership with swissplast®, have also opted for such a solution.
Challenge: Three-dimensional design
Hamilton Storage has set itself the challenge of developing the heart of every pharmaceutical company in an optically modern, industrial design. A classic sheet metal casing for the high-tech Verso storage system could no longer meet the expectations of the designers! The aim was to replace the conventional, simple, two-dimensional sheet metal cladding of the Verso platform with modern cladding parts. In close cooperation and partnership with swissplast®, trend-setting, three-dimensional plastic shuttering parts were developed and brought to series maturity.
A major challenge was above all the production of the large white front (2740x1270x110mm) and its silver border in top quality. In addition to other components, these swissplast® parts were also produced to the customer's complete satisfaction.
"Due to the lack of experience with thermoforming, we had to rely on the support of swissplast® during design. Thanks to the good cooperation with swissplast®, we were able to realize our industrial design and make the verso more attractive for our customers. We greatly appreciate the support we received from swissplast® at all times in this project!"
Design engineer Hamilton Storage GmbH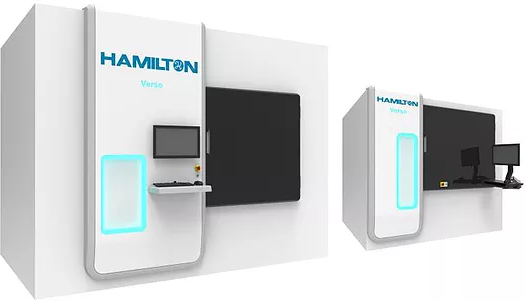 Contemporary design in plastic instead of sheet metal
Formwork is still made of sheet metal in the classic style, especially in mechanical engineering and apparatus engineering. The major disadvantage, however, is that metal can only be formed into a three-dimensional shape at reasonable cost in very large quantities. Mostly, however, machine and apparatus manufacturers are confronted with smaller quantities and historically concentrate on 2D covers. With thermoformed plastic shells from swissplast®, developers can realize a contemporary design even for smaller series. Many modern plastics can also easily be used in harsh environments. swissplast® is also the right partner for part sizes and produces shutterings up to 3m x 1.5m in size.
About Hamilton
Hamilton is an internationally active company in the fields of life science and medical technology. Its success story is based on Clark Hamilton's revolutionary invention of the microliter syringe (1947). In addition to precision instruments for various research purposes, it produces intelligent ventilators and their accessories and is also strongly represented in the growth markets of genetics and robotics. Hamilton Storage's Verso platform is a coolable storage system in which chemical or biological substances can be collected and stored millions of times over. This system manages so-called compounds, potential active ingredients of drugs that pharmaceutical companies collect and store in large numbers. The collection of substances is therefore the heart of every pharmaceutical company.