Mesh box covers from swissplast
Space-saving locking solution for your mesh boxes: Self-locking plastic covers from swissplast lock your Euroboxes, stacking frames or mesh boxes securely, water- and dust-tight. The comprehensive plug-in system enables secure stacking of the mesh boxes – whether in storage or during transport.


Secure closure & cover for your mesh boxes – swissplast Kunststoff
The GIBO TOP mesh box cover from swissplast covers your mesh boxes without wobbling or slipping. The cover hoods are produced by vacuum thermoforming and thus adapt precisely and contour-accurately to the openings of the boxes. Access protection is guaranteed by the optional sealing of the mesh box with the cover. swissplast, the experts for plastic trays, transport systems and plastic technology can emboss your company logo into the cover of the mesh box on request.
Cover for mesh boxes from swissplast:
Comprehensive & self-locking

low storage volume, as stackable

recyclable

available in various colours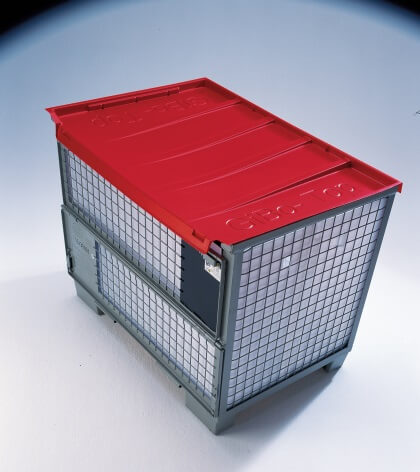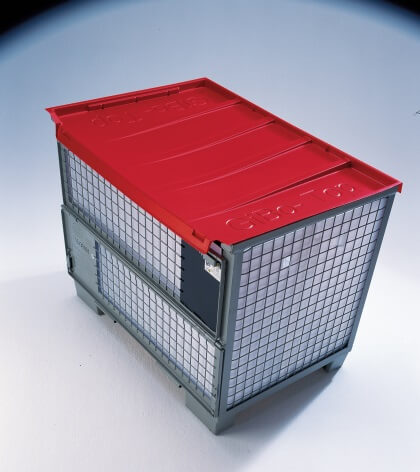 Covers for plastic mesh boxes: deep-drawn parts as covers
The standardised dimensions of lattice boxes and Plastic transport containers enable space-saving storage and efficient and safe transport of workpieces and other products. The overlapping edge of the cover prevents the penetration of dirty water and dust, but also ensures that the mesh boxes can be stacked. The recesses in the mesh box cover fit exactly to the feet and the edge lengths of the base plate of the box. The plastic covers are shaped in such a way that they cannot slip off or fall into the mesh box.
Gitterbox covers & plastic lids from swissplast buy
With plastic cover hoods from swissplast, your goods and workpieces receive the protection that is important during transport and in storage. When processing plastics, swissplast pays attention to the highest quality both in the material used and in the deep drawing of the plastic. The result is durable, stable and hard-wearing mesh box covers, the dimensions of which are both standardised and individually manufactured. Talk to the swissplast service about the requirements of your business – we will manufacture suitable covers for mesh boxes in the quantities customary in wholesale on schedule.