Technology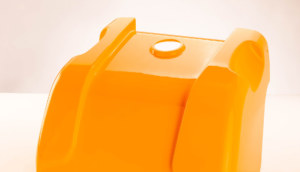 Our ambition is to always be at the cutting edge of technology for our customers. Not only in the processing of plastic materials, but also with the knowledge of the semi-finished products available on the market. In addition to standard colours that can be reproduced according to RAL, Pantone or NCS, there are also technical decors in carbon and metallic design. Or natural colours like marble, granite, stone, wood, etc.
Surfaces have different requirements depending on the application. For example, scratch resistance, gloss or grain. Our suppliers and their products convince through improved stress crack resistance and a wide range of surface finishes from matt to high-gloss. Innovations such as specially developed "softfeel" surfaces, which are equipped with a COEX top layer, have excellent deep-drawing and recycling properties, aare signs of our international and future oriented vision.
The products of our manufacturers show special qualities, e.g. in outdoor use. They can easily be exposed to direct weathering such as sunlight, cold, heat, wind and precipitation. In order to meet the high requirements in different industries, special multilayer boards have been developed. A selection of these are:
Electrically conductive
High temperature resistant
UV-resistant
Self-extinguishing according to reaction to fire S 4, SR 2, ST 2
Self-extinguishing according to DIN 5510
Your tool is in good hands with us
Our toolmaking services include the manufacture of component prototypes, test and pre-series tools, series tools for thermoforming and all types of operating equipment.
Apart from aluminium moulds, we manufacture everything in our own tool shop and use the very latest CAD-CAM-CNC technology. We procure aluminium moulds internationally from established and innovative partners with long traditions and state-of-the-art plant technology. The necessary maintenance and repairs are carried out internally in our tool shop.
Plastic thermoforming / deep drawing
Our strength – high-quality, technically demanding parts
As a leading supplier in Central Europe, we concentrate exclusively on thermoforming plastics.
Your high-quality deep-drawn parts with a forming area of up to 3000x1500x620mm are produced using the latest machinery to ensure perfect results. Use our know-how already in the development phase.
We will be pleased to advise you in order to check your individual shaping in advance for an economical production. This guarantees a perfect end product which supports your market success.
Our Strength – Accuracy in Detail
Plastic milling by means of CNC
Precise machining of plastic parts with CNC-controlled 5-axis milling centres of the latest technology are the guarantee for high-quality deep-drawn parts.
Customer added value through final assembly
subassembly production
We glue, weld and assemble customer-specific additional products to the plastic parts. For example, locks, duptaras, electrical components and much more.
Deliveries according to your wishes
delivery
All our customers are different and we know that what is right for one does not necessarily apply to the other. Flexibility is, of course, a key factor in supplying our customers in the way that is right for them. For years, we have offered on-time, tape (JIT) or even workplace (JIS) delivery solutions.