ESD Packaging and ESD Containers
<Electrostatics cannot harm your electrical components: swissplast manufactures transport containers that promote electrostatic discharge and thus prevent interactions between the components being transported. ESD (Electrostatic Discharge) describes the process and effect of balancing electrical charges between two bodies in connection with electronic components. Our ESG packaging protects electronic components against short-term but high voltage and current peaks caused by electrostatic charges. With ESD containers and transport systems from swissplast you avoid damage to sensitive electrical equipment during shipping, transport or storage.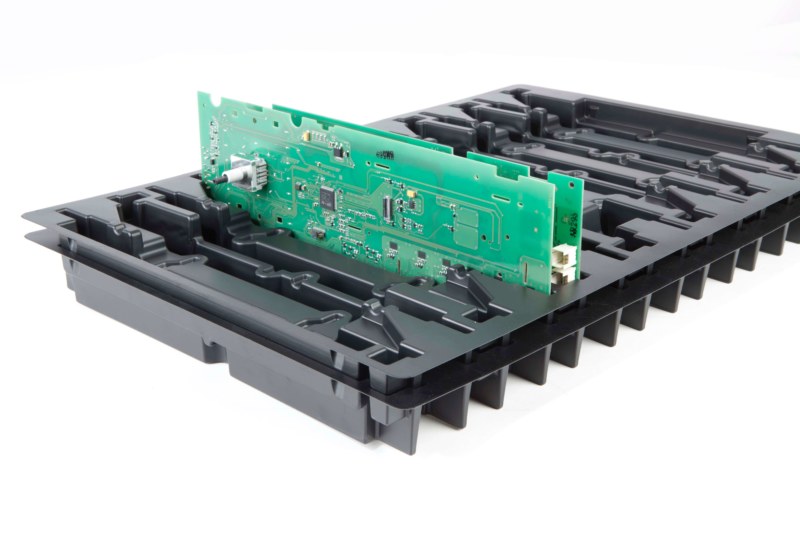 High-quality ESD packaging from swissplast
swissplast works closely with customers, raw material producers and external testing institutes in the development of ESD containers. The collective know-how flows into safe plastic containers with antistatic properties: We manufacture ESG packaging, ESD boxes, ESD stacking containers or ESD crates tailored to the size and quantity of your goods. Many years of experience in the procurement and processing of electrically conductive materials, specially trained specialists and existing measuring technology guarantee the perfect realisation of these projects and the certification of the individual containers.
ESD packaging made of ESD plastic: polystyrene container
We use materials such as polystyrene for our ESD packaging. The polystyrene containers prevent static charging that can occur between electrical components and the surrounding materials. The conductive plastic ensures controlled discharge of any electrostatic fields that may occur. This is why we use polystyrene in the realisation of our projects and tailor the properties of the ESD packaging exactly to your special requirements. The graded conductivities are achieved by adding additives. We monitor the adherence to these values in our company directly on the processed plastic part.
Antistatic protective plastic packages
hoose Plastics technology from swissplast to protect your sensitive goods. We manufacture our transport systems from plastic by economical thermoforming of the ESD plastic, whereby you benefit from precisely fitting, high-quality workpiece carriers. We provide you with packaging for ESD protection and ESD containers on time and reliably, so that nothing delays the transport of your electrical components.