swissplast® group forges a strategic partnership with the Italian CMS SpA and CMS Deutschland to produce large 3D pieces. 1,800 x 2,200 x 800 mm: these are the maximum sizes that will be achieved in future by swissplast®.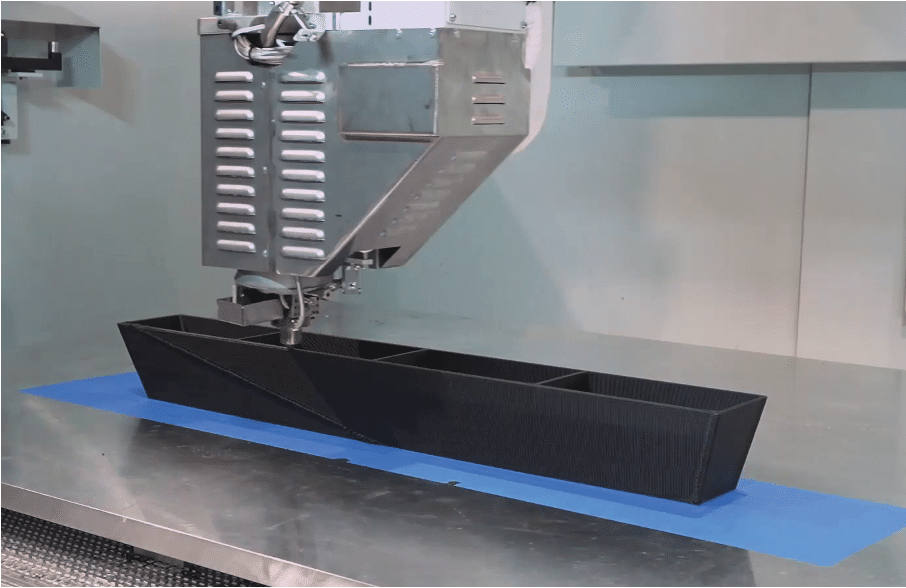 CMS Advanced Materials Technology – division of CMS SpA, part of the SCM Group – is a leader in CNC machines to process composite materials and has worked with the famous German Fraunhofer Institute to develop a hybrid LFAM (Large Format Additive Manufacturing) machine: a unique solution for the complete integration of a tool machine and large-scale 3D printer. This means it will be possible to create 3D products and then trim them, all on the same machine: an absolute first! Further information on the subject can be found on the website.
The first hybrid machine in the German speaking region will be delivered to swissplast® group in April 2022. This will make swissplast® the first company capable of offering large-scale 3D pieces. From tools to assembly devices right up to production pieces with maximum sizes of 1,800 x 2,200 x 800 mm will be produced in the future under the brand swiss3dprint®. Further information on the subject can be found on the newly created website www.swiss3dprint.com.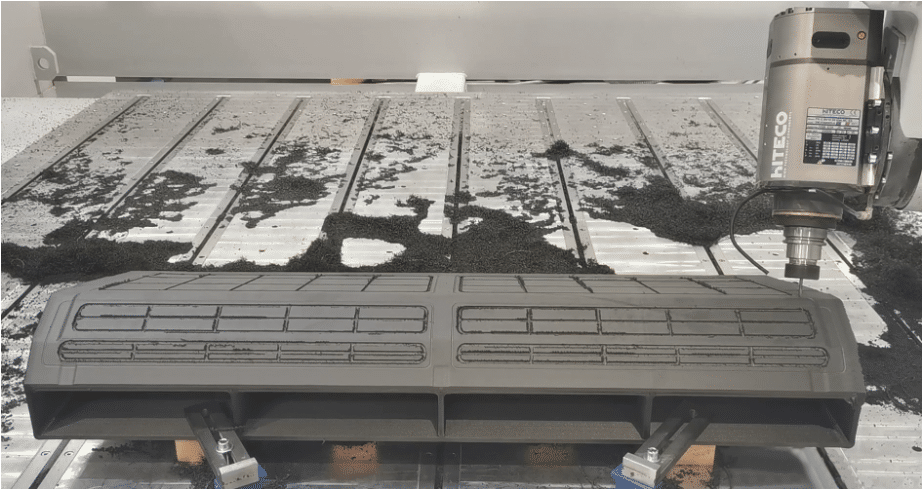 The additive manufacturing technology adopted is known as Screw Extrusion Additive Manufacturing (SEAM). Thermoplastic polymer in granulated form is the material used. The tested materials, reinforced with carbon fiber or fiberglass are PA, PP, PESU, PEI, PET, ABS and AIRTECH DAHLTRAM.
«Innovation is our top priority», says Barac S. Bieri, owner of swissplast® group. «For years we have carefully followed everything happening on the market. With the hybrid machine, that can print large volume pieces up to 1,800 x 2,200 x 800 mm, we have finally achieved the long-awaited innovation. I am proud to say that we are once again in a trailblazing position in the plastic material market by assuming the role of 'pioneer'».
swissplast® group is a company run directly by the owner, specializing in exceptional plastic parts, with production plants in Switzerland and Germany. The group focuses mainly on the thermoforming of top quality and technically complex plastic materials. swissplast® stands out from the crowd in terms of client satisfaction, impeccable products, sustainable profitability and technologies, and state-of-the-art material.
CMS SpA manufactures machinery and systems for the processing of composite materials, carbon fiber, aluminum, light alloys, plastic, glass, stone, and metals. It was established in 1969 by Mr Pietro Aceti with a vision of offering customized and state-of-the-art solutions, based on the in-depth understanding of the customer's production needs. Significant technological innovations, originating from substantial investments in research and development and take-overs of premium companies, have enabled constant growth in the various sectors of reference.
CMS Deutschland GmbH is CMS SpA in German speaking countries. Seven technicians who boast extensive professional experience are ready to provide the clients with technical assistance, training, startup and a technical hotline service to solve problematic situations.